Searching for data storage devices is a highly specialised skill. The Police spend millions each year teaching its Detectives and Scene Of Crime Officers how to conduct searches effectively.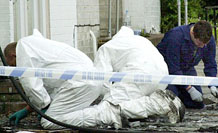 We have the experience and expertise necessary to assist you with this specialised task.
We can preview data on site so that you can make an on-going determination about the effectiveness of the search itself. This is especially useful when considering possible RAID arrays or other large storage devices that may be present.