We can usually recover deleted files and have in the past reconstructed deleted files from partial fragments found scattered across the disk.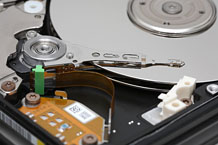 What we cannot do however is the reconstruction of a physically damaged disk - this requires dedicated specialist equipment and techniques which we don't have.
We do have close links with companies we have worked with in the past that perform this kind of work on a daily basis. We will be happy to recommend one to you at no cost.