Performing this type of analysis is a specialised field and isn't something you should leave to the untrained amateur.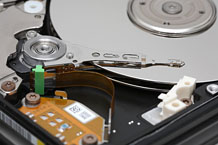 Very often the initial, well intentioned actions by IT staff can fatally destroy crucial evidence that ends the case. Integrity cannot be retrofitted.
For this reason, it's very important that you take steps to preserve the evidence.
As soon as you're aware that a forensic investigation may be necessary, ensure that the devices involved are secured. Don't let anyone "have a quick look".
For Mobile Telephones this means:
Switch the handset off - do NOT remove the battery!
For Computers, Laptops and Workstations:
If still running, simply disconnect it from the network by removing the network cable and secure it so it won't be used by anyone else. This is the preferred option as it allows capture of the computers memory in addition to the hard disk contents.
If you you need to shut it down, don't shut it down cleanly - simply pull the plug to bring the machine down. For laptops, you will need to also remove the battery.
As far as you are able, secure any associated storage devices, items like memory sticks, for example, although these may be the personal property of the individual concerned.
In ALL cases:
Take lots of digital photographs of the device in situ and after you've secured it. These are cheap, easy and invaluable.
Secure the powered down devices in a locked storage area under your supervision.
Make notes about what you have secured, make, model, serial number and the date and time.
Get a colleague to sign your notes as valid.
If you're unsure about any of these steps or would simply like to have a brief chat to explore your options, then we are happy to speak with you and offer you some useful advice about how to proceed.